Connect Sigfox with Atlas geolocation to thethings.iO
On this webinar, we are going to connect a Sigfox device to thethings.iO and then with the Sigfox Atlas geolocation service.
With thethings.iO and Sigfox Atlas you can track all your Sigfox devices in a very simple way.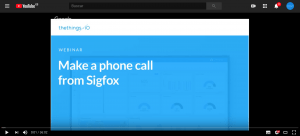 Make a phone call from Sigfox, Twilio and thethings.iO
During this webinar, we are going to showcase how a Sigfox device launches a cloud code trigger that makes a phone call.
Phone call and SMS will work with Twilio service and email with Mailchimp triggered from thethings.iO.